Meena, India
Peer educators help spread awareness local communities and are often the first step to accessing healthcare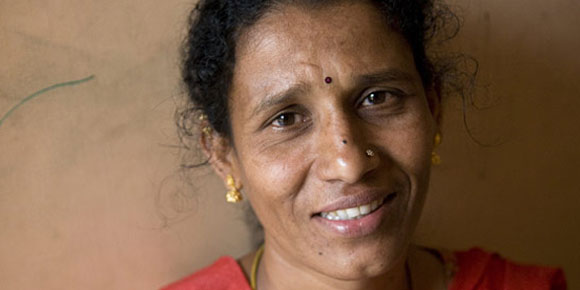 Meena, a widowed mother of four, has transformed her life since discovering she is HIV positive. Now, working as a peer counsellor, she has made it her mission to educate and empower other women living with the disease.
More about this health hero

When 32 year-old Meena is asked about her past, she hesitates. "It's good to ask about the future because it's hard to live in the past," she says. "But the future is linked to the past." Meena came from an extremely poor family in southern India. She was married off by her sister when she was just 15 with very little education, so when she was diagnosed HIV positive it came as a shock.

"I didn't know anything about HIV, but now I am not the same person," she says. "Today I can do anything, I am empowered. I am not a poor uneducated housewife."

Meena's transformation started when she came to Milana, a centre housing a self-help group for people living with HIV and Aids. "In this world, discrimination and stigma is so high. That's why I am here. You can't live without a group like Milana. The learning and education we have got here has made me very powerful. I mean powerful in the sense that we realise knowledge and information is power. Before, I just did what I was told," says Meena. "For example, I just married who I was told, I didn't realise I could have a choice. Today I know you should marry someone you know. I didn't know me or my children could be educated, how to deal with HIV. I just thought we would all die," she adds.

After Meena's husband died of an HIV-related illness, her in-laws took her and her four children to have a blood test. When she and her eldest daughter were found to be positive, her in-laws took her to the city of Bangalore and dumped them at an orphanage. She thought she was just coming to the city for treatment. But it was at the orphanage that she found out about Milana, and she started attending their meetings. It was an eye-opening experience and it encouraged her to take control of her life. Soon after, she began working at Milana as a peer counsellor.

"I share my stories and experiences, motivating people, referring them to health and educational facilities, I make home visits, take people to hospital and sensitise the community," she says.

Meena decided to take the step of going public about her HIV status. "I heard about the number of suicides because of test results and it made me think about what if I did this, what would happen to my children? I should do something to help women and their children, and stop them committing suicide," she explains.

Meena became the group's first spokesperson - but not everyone was enthusiastic about what she was doing. "Other women were nervous about making this place too public. Their place of sanctuary would be exposed," she says. But Meena is committed to educating people and changing their attitudes towards HIV because she knows what this knowledge has done for her. "Today, I know how to live," she adds.