Marcela Romero, Argentina
Making sure minority groups are aware of their rights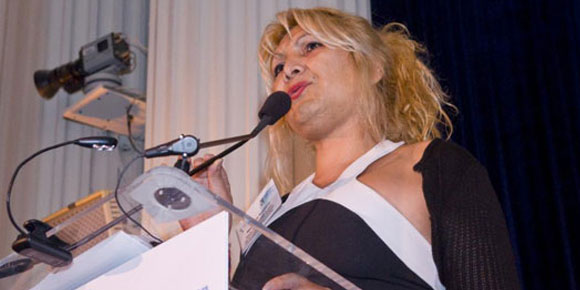 Marcela Romero is an inspirational activist for the rights of transgender people in Latin America. She is the founder of REDLACTRANS, the Latin American Network of Transgender People, whose numerous campaigns have contributed to legislative changes in the region, ensuring the rights and gender identity of trans people are acknowledged and respected.
More about this health hero

Marcela Romero was born on 9 July 1964 in the province of Buenos Aires, Argentina. Tired of personally experiencing police abuse and institutional and social neglect, she became an activist for the rights of transgender people in 2004. A year later, Marcela was elected Coordinator of the Association of Transvestites, Transsexuals and Transgender Argentina (ATTTA), a post she holds until today.

In 2006 Marcela was invited to attend the CONCASIDA meeting in El Salvador where she realized that there was virtually no representation of transgender people in the conference. What is more, most workshops classified transgender people as men who have sex with men (MSM), even though the trans community is one of the populations most affected by HIV/AIDS.

During this event Marcela denounced the term homophobia, arguing that it does not represent one of the populations most vulnerable to HIV and introduced the new concept of transphobia. This fight and negotiation about meanings is not a mere whim discourse, rather Marcela insists that with this idea of visibility "we are defending thousands of trans people who want to live and should be included in the agendas of governments in Latin America and the Caribbean".

At CONCASIDA she received recognition and political support to confront the epidemic from an inclusive perspective recognizing the specific transvestite, transsexual and transgender community. This advocacy has informed the foundation of REDLACTRANS, the Latin American Network of Transgender People which has, since its inception, exerted pressure on agencies and governments to change their language with reference to the trans community.

In the following years Marcela and REDLACTRANS have participated in various international meetings and assemblies advocating strongly for the region to adopt Laws on Gender Identity and defending the demands for access to decent work, fair housing, equal treatment, education, prevention, care and universal treatment for HIV/AIDS without stigma or discrimination.

Nationally, Marcela Romero has pushed for the 2272 resolution on respect for transgender people in public hospitals in the city of Buenos Aires. The resolution states that health professionals should call trans people by their generic name.

REDLACTRANS advocacy work and meetings with government officials at the International AIDS Conference in Mexico in 2008 has resulted in the adoption of the Law on Gender Identity in Mexico, guaranteeing name changes in official papers. Meanwhile in Argentina, Marcela has received the documentation confirming her female identity, after ten years of struggle against bureaucracy. This marks an important precedent for the urgently needed ratification of the Gender Identity Act in Argentina.

In 2010, the Argentine National Congress has recognized Marcela as \"Woman of the Year\" for her struggle for human rights of transgender people, and last November she received the Clarence H. Award from the Pan American Health Organization for her volunteer service in Latin America.