Jamuma Pradhani, India
Civil society participation in the health policy decision making process is essential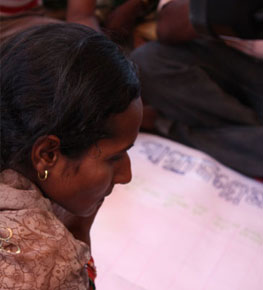 In the ongoing battle to improve public health, Jamuna Pradhani is a vital missing link between the people and the authorities in India's north eastern Bolangir district. She is helping people stick up for their rights and access the services they need most.
More about this health hero

Jamuna Pradhani lives with her family in Narayan, a small village in one of the hottest part of the Orissa region in India's north east. Working with her local community, she informs them about a host of health-related issues, in particular HIV/Aids, helping to raise awareness and fight prejudice and stigma.

And she provides a vital missing link – connecting villagers with local authorities and health structures, providing information about which services and resources are available and how to access health facilities.

Her work has had an immediate impact on the people of Narayan panchayat. "Before, people didn't know much about HIV/Aids. Women were usually hiding their problems related to sexual and reproductive infections," says Jamuna. "But since I started working, we all sit together to talk about various health issues."

Jamuna works with different groups, and they meet once or twice a month to talk about the things they are not comfortable discussing with their own families. Now, people are speaking out and are getting the treatments they need.

Unfortunately, the health facilities in the area are few and far between. The local health centre doesn't have the facilities to cure sexual or reproductive infections, for example. If people wanted treatment, they had to get there first – a major barrier for most people given the poor road conditions and the distances involved.

But thanks to 25-year-old Jamuna, people are more aware of their rights and are asking their local authority to put in place the facilities and medical staff they desperately need. "This was not happening earlier," explains Jamuna.

Jamune recently helped Sankirtana to treat an illness which he had developed as a consequence of tuberculosis. Due to his bad health, 40-year-old Sankirtana is not able to work and take care of his family. But thanks to the support and mediation of Jamuna he received some money from the village committee to get x-ray and some medicine to treat his disease, and Jamuna is committed to helping support Sankirtana and his family.