Gowthami, India
Civil society fights for the rights of people living with HIV/AIDS and can shape health policies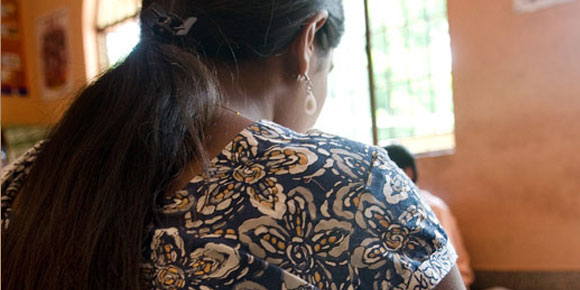 Living with HIV is an ongoing struggle, but 17-year-old Gowthami is determined to help other children in her shoes overcome their fears. Chairing a children's self-help group in India's Bangalore, Gowthami is helping children speak out about life with HIV.
More about this health hero

Gowthami is a talkative and bright-eyed 17-year-old with an endearing personality and a quick smile. It was her chatty nature that first brought her to Milana, a self-help support network for people living with HIV and Aids in Bangalore, India. Gowthami found out she was HIV positive when her mother died of an HIV-related illness and her father abandoned her. Naturally, it left her full of questions.

"After my mother died I was very sick," explains Gowthami, "so I had my blood tested when I was five years old. I told everyone at first but they showed me great stigma and discrimination. I wondered, 'Why have I got HIV and why do they treat me this way?'"

Even Gowthami's family set her apart. Her aunt wouldn't let her play with her cousins, wouldn't let her sleep with them. She was even given separate towels and made to use different plates. "It made me want to cry. I couldn't understand why she was treating me like this. The neighbours said I must have done something wrong, which is why I have HIV," says Gowthami.

It was a doctor that directed Gowthami to Milana to help answer her questions. "I was asking so many questions he sent me here," she smiles. The centre is a handful of small, sparsely furnished rooms, but the loving atmosphere is striking. The people who come here, mostly women and children, are either HIV positive or come from HIV positive families. They share their experiences, talk openly about their feelings and problems and, perhaps most importantly, feel safe.

"All the children are the same, all are equal here," explains Gowthami. Outside the centre it is a different matter. "I would like to help increase HIV awareness out in the community but with my friends at school, I don't really talk to them because they discriminate against me, they're afraid of me. They don't know how it spreads - they think maybe they can get it just by me breathing on them."

It is this ignorance that Gowthami is determined to fight. She has taken up the role of chairperson of Chiguru (which means "sapling") - the children's self-help group at Milana. "We go on picnics because either our parents can't take us or aren't alive, we have arts and crafts, extra schooling if we miss school," says Gowthami. But perhaps the most important role of Chiguru is that the children feel free to talk. "Many children have lots of questions inside but they don't ask them. I encourage the children to talk, to relieve them of their fears," she adds.

Gowthami thinks her strength comes from her grandmother, who she lives with, and is the only relative who has supported her. She no longer talks to the rest of her family. "My grandmother is 89 but she is so strong. She was a freedom fighter and she tells me 'you are not bad, you should not feel bad'," she says.

Twice a day Gowthami takes her ART medicine. "My biggest enemy in the world is my medicine so I hide it in a banana or salad," she says, squirming at the thought. But Gowthami feels confident about her future. She wants to be a police officer, social worker or civil servant - "Whichever one costs the least to study and pays the most!" she adds with a laugh.